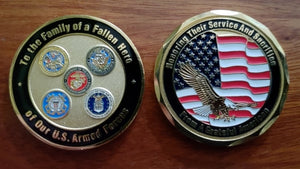 The Family of the Fallen coin is to be given to a family member of a fallen hero to honor their service and sacrifice. The coin is gold tone with a black band around the coin edge and has the emblem of all five military branches.
The inscription on the coin reads:
"To the Family of a Fallen Hero of Our U.S. Armed Forces"
"Honoring Their Service And Sacrifice From A Grateful American"
Some facts about our coins:
All coins are individually sealed in a heavy gauge plastic to keep it from getting scuffed or marred
Our coins are a heavy duty metal composite at 1.8 ounces and worthy of collecting
The coins are larger than a silver dollar coin at 1 3/4" and 1/8" thick
Our coins are made in the United States of America

Buy 9 coins of any type, get 1 coin free! (Add 10 coins to your cart)